Jinko's history is a story of commitment and hard work. In 10 years only, from its foundation in 2006 until 2016, the company became the world's largest manufacturer in the field of solar panels. It began by "playing it safe", employing the technology that was well tested and known to work, such as half-cut cells, but soon started implementing innovative techniques and designs represented nowadays by the new Tiger series.
Its success in such a short time, recorded by numerous independent testing companies, comes from Jinko's commitment to performance and durability testing and quality controls.
Overall Ratings
Quality: 9
Performance: 8.9
Warranty and tech support today: 9.7
Warranty and tech support long-term: 8.7
Price: 8
Value for money: 8.2
Pros and Cons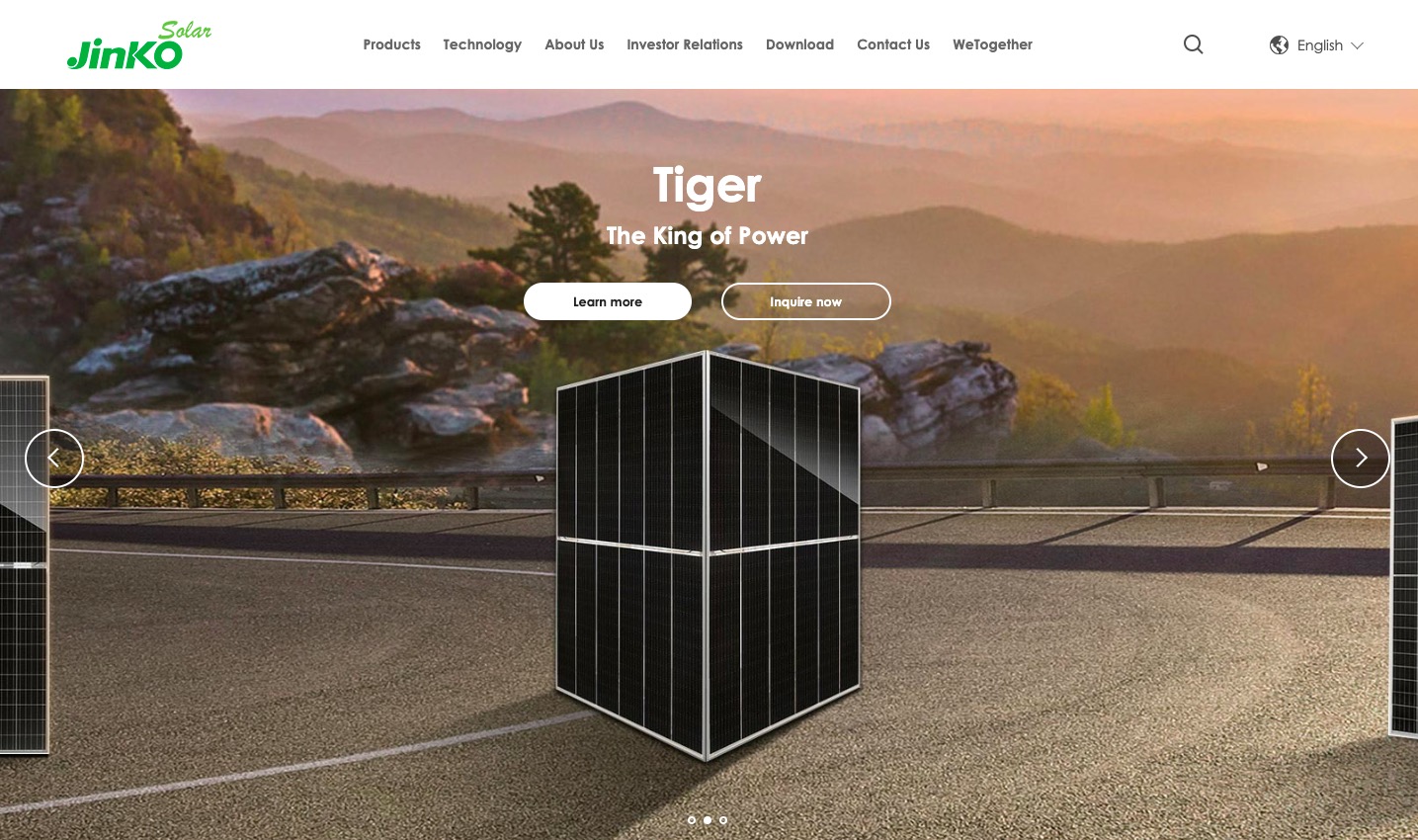 Manufacturing Locations
The company currently counts with about 15,000 employers in over 70 locations around the world. It is a huge company, vertically integrated and headquartered in Shanghai, China, the country where most of its products are manufactured. Nonetheless, production does not stop in that country, as Jinko also manufactures in countries such as Malaysia and the United States.
Different Types Of Solar Panels Jinko Offers
Jinko has a type of solar panel for every necessity you have or personal preference. There are four main categories, divided in series.
Tiger Series, Mono N-type
Cheetah Series, Mono PERC
Swan Series, Bifacial
Eagle Series, Poly
Jinko has solar panels for either residential or commercial use, even aimed at utility-scale installations. If you require unique designs that don't fit these categories, then Jinko also offers the possibility to format specific applications.
In our Jinko panels review, we will be presenting you a few of the best models you can find on the market sold by the company, so you get an idea of what they offer.
| | | | |
| --- | --- | --- | --- |
| Model | JKM370M-66H | JKM385N-6RL3 | JKM390N-6RL3 |
| No. of cells | 132 | 132 | 132 |
| Dimensions | 1840 × 998 × 35 mm | 1842 × 1021 × 35 mm | 1842 × 1021 × 35 mm |
| Weight | 28.8 kg | 21.6 kg | 21.6 kg |
| Maximum Power | 370 Wp | 385 Wp | 3990 Wp |
| Open-circuit Voltage (Voc) | 43.75 V | 44.56 V | 44.66 V |
| Module Efficiency | 20.15% | 20.47% | 20.74% |
| Temperature coefficients of Pmax | -0.28% / °C | -0.35% / °C | -0.35% / °C |
The Cheetah series, the one who displaced the now obsolete Eagle series, is the best in terms of popularity (the JKM330M-60H was the most sold solar panel in Australia in 2020). It is particularly bought for its balanced combination of high quality and value for money.
The Tiger series is the more revolutionary one and inaugurates a generation of innovative techniques like larger format cells and the Tiling Ribbon, an alternative to the flat ribbon busbars, which consists of a multi busbar aimed at shortening the gap between cells and increasing efficiency.
What Makes Jinko Panels Unique?
N-type cells have been a trend in the construction of solar panels for a while and commonly used by other premium companies like LG and Panasonic. Jinko recently joined the race with the release of the new Tiger series with mono n-type cells, but the particularity of Jinko that distinguishes it from the rest is the higher volume of lower-cost the company puts in the manufacturing of these cells.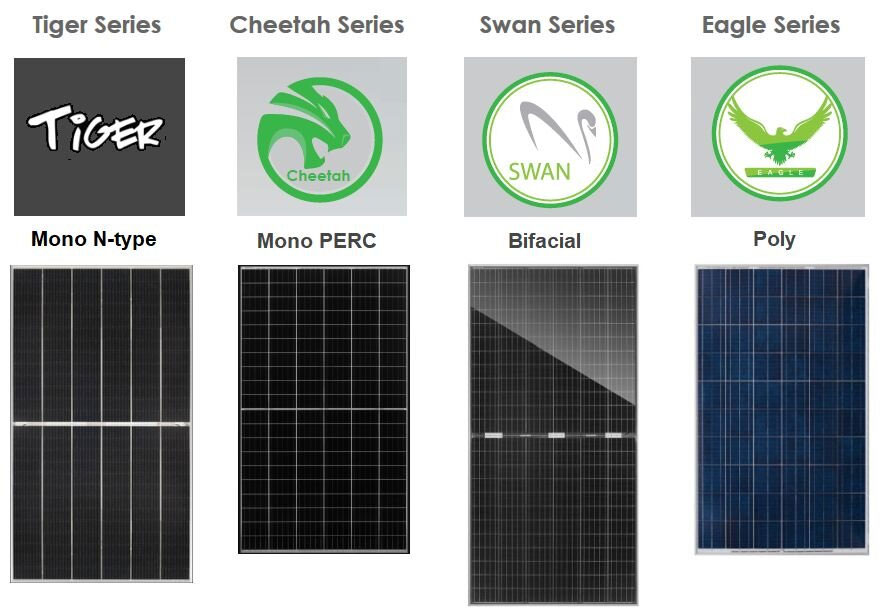 Performance
Jinko Solar has been crowned as the top performer in the annual PV Module Reliability Scorecard Report, produced by leading solar module testing and performance services PVEL, a notorious and independent authority worldwide based in Germany. The PVEL recorded Jinko Solar panels as the number 1 manufacturer in each of the five last annual reports, which rigorously measure the quality and service of several companies.
Performance has strictly to do with temperature. As you may already know, high temperatures ruin the electricity production of your panel. The decrease in production is precisely what is indicated by the temperature coefficient. To make an example: if the coefficient indicates -0.28% per °C, it means that once the temperature outside reaches a grade higher than 25 °C, then production will drop about 0.28%. Jinko Solar reviews have all been pretty positive with regards to this aspect, as the drop is very minimal compared to other manufacturers' panels.
Efficiency
Solar Panel efficiency is the ability of a panel to capture sunlight and turn it into electricity. When it comes to Jinko Solar, efficiency is nothing extraordinary but holds well against the competition. As we have seen in the chart above we used for our Jinko Solar review, the panels generally have an efficiency rating of about 20%, with the lowest ones meeting an 18.67 percentage. Instead, the new line of solar panels named Tiger meets quite high numbers, also thanks to their quality battery, and is ranked as one of the best in terms of efficiency currently in the market. We are talking about almost 21% (the JKM390N-6RL3 stands at 20.74%).
Jinko Solar Panels Price
It isn't easy to say an exact price for every Jinko Solar model, as they vary over time and depend on the country you are buying from. Given that estimation is not possible, we suggest you contact their support directly: they are very friendly and will give you all the information needed. Keep in mind that anyway, the price does not take into consideration the possibility of receiving incentives and help from the government, or even free quotes, for your decision of investing in renewable and clean energy. To check whether you are eligible for these funds, and if so, how much, you can enter your postcode online and see what financial payments you might receive.
Warranty
The new Tiger series from Jinko comes with a new product warranty of 15 years in most models (25 for the Tiger Pro panels) and a performance warranty of 30. Being with N-type panels, the operation of your product is guaranteed to last many years and lose only about 0.4% of the rated power per year, going to 30 years with an impressive 87.4% minimum operation percentage. Jinko confirms all of these specs in their sheet, claiming warranty will follow a linear performance and go through only a minor power degradation during the years.
The older Cheetah series still offers a respectable warranty, claiming the annual attenuation to be of 0.6% and the minimum power output of 83.1%. They offer for these models a product warranty of 12 years and a performance warranty of 25.
Are Jinko Panels Right for You?
It is difficult to think of someone who wouldn't like Jinko panels. They are perfect for those who value quality and efficiency, as all their models show. Jinko offers a variety of options for every need, so it adapts perfectly to your needs.
Choose Jinko solar panels if you are interested in a good product with high durability and tested efficiency, and choose especially the Tiger series if you want to get the absolute top when it comes to innovation is the photovoltaic field because, as you have read in our Jinko solar panel review, the company is in forefront regarding that aspect.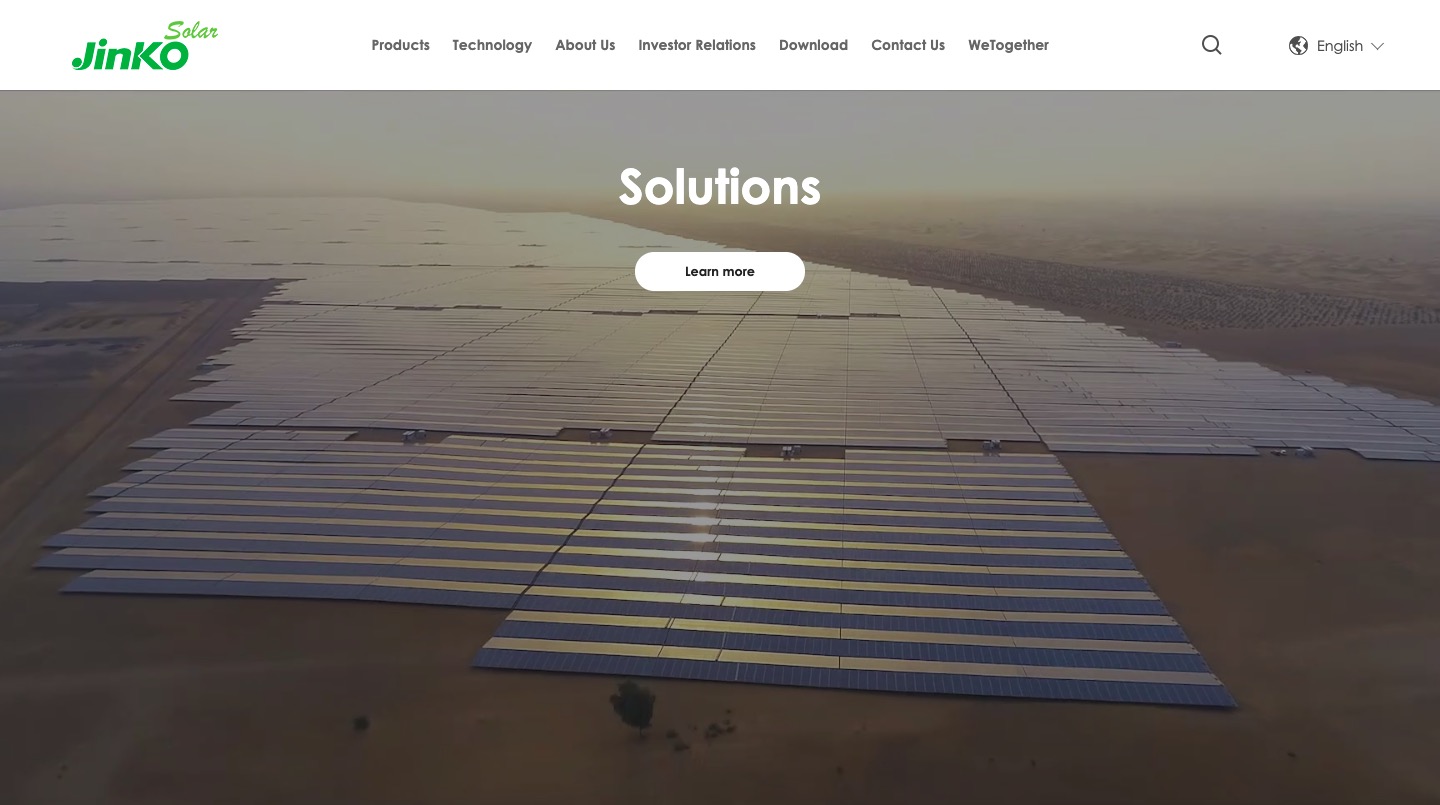 Final Advice
There is a reason why this company became the world's leading manufacturer when it comes to solar panels, and in our Jinko solar panel review, we tried to understand what it is. If until recently the aim of the company was to produce panels in the mass scale, basing all their products on already well-tested technology, now Jinko Solar has taken a new path of innovation and breaking of boundaries, pushing research always a step further to provide ground breaking designs and systems.
The new Tiger series proves exactly that, and its high-efficiency demonstrates that Jinko made a good job at perfecting their techniques to offer a better and perfectly working product. Nonetheless, the Cheetah series cannot be forgotten. After all, it is still home to some of the most popular and sold solar panels in the world, proving to offer a perfect balance of quality and affordable cost for every residence or commercial installation.