You might know LG from those cool-looking TV displays, or perhaps you own one of their phones. What you may not know is that LG has a history of manufacturing solar panels and very good ones, too. The company, Lucky-Goldstar (LG) Corporation, is a multinational conglomerate corporation headquartered in Seoul, South Korea, and founded in 1947. It has subsidiaries and business units in a lot of different branches, ranging from electronics to chemicals, to telecommunications and more.
Among these is LG Solar Energy subsidiary, or now referred to as LG Chemical, specializes in raw materials, chemicals, electronics materials, and energy solutions. In 2017 it was the largest chemical company in the world by sales and is now renowned as offering some of the best solar panels on the market.
Overall Ratings
Quality: 9.5
Performance: 9
Warranty and tech support today: 9.7
Warranty and tech support long-term: 9.8
Price: 7
Value for money: 8.8
Pros and Cons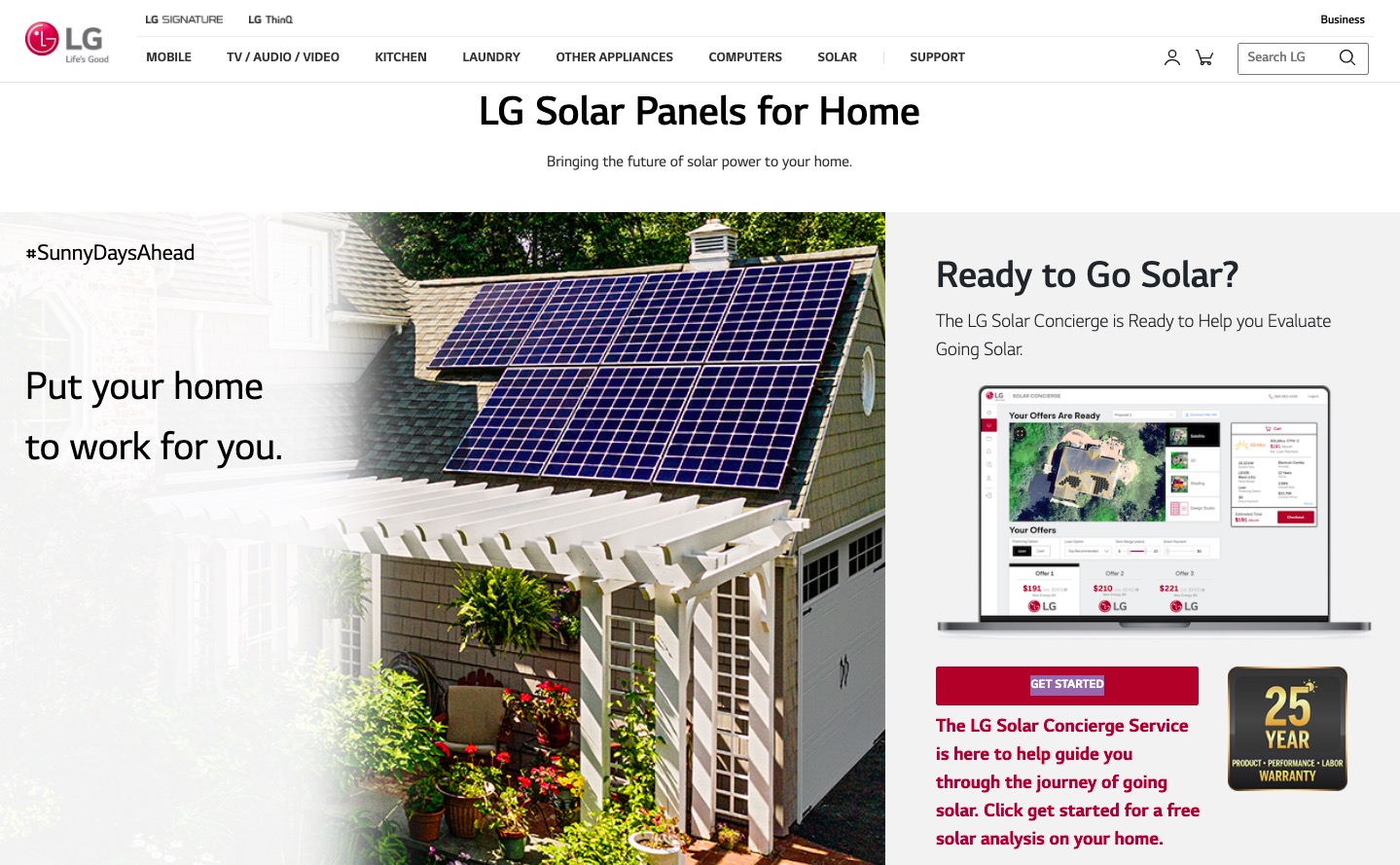 Manufacturing Locations
The company is headquartered in South Korea, where eight of its factories are located. Outside of its national territory, LG has a network comprising 29 business locations in more than 10 countries, including a holding company in China and several overseas manufacturing subsidiaries, and more. Most solar panels are manufactured in South Korea, but also in countries like China and the United States.
Different Types Of Solar Panels LG Offers
What makes LG solar panels unique is that they come in a wide variety of models and types dedicated to all your necessities and buildings. It would be impossible to list them all; therefore, we are going to focus on three of the main products: two specifically designed for residences, one perfect for a commercial building. LG solar panels reviews will also provide you with a list of main specifications, so we are including that too.
The first series of LG panels is the Neon 2, ranging from 330 W to 355 W. The format is a standard 60 cells, whereas it uses an innovative technology known as Cello with multi wires. The second one is the LG 360 solar panel, part of the Neon R series, the company's flagship. It is able to reach a very good performance and efficiency level thanks to the premium IBC N-type cells used. The price is a bit high, but you get an excellent product that will work perfectly and efficiently and last a long time.
About commercial series, the Neon 2 405 W is an LG solar panel that does a perfect job for buildings requiring more cells, as the series is manufactured in a large format for commercial applications with about 12 more cells than average. There is also the possibility to get dual-sided modules, which increase power output by almost 30%.
| | | | |
| --- | --- | --- | --- |
| Model | LG340N1C-A5 | LG360Q1C-A5 | LG405N2T-J5 |
| Efficiency | 19.8% | 20.8% | 19.5% |
| Cell Arrangement | 6 x 10 | 6 x 10 | 6 x 12 |
| Length (Height) | 1,686 mm | 1,700 mm | 2,024 mm |
| Width | 1,016 mm | 1,016 mm | 1,024 mm |
| Weight | 18 kg | 18.5 kg | 20.3 kg |
| Depth | 40 mm | 40 mm | 40 mm |
| Max. Power Output | 340 W | 360 W | 405 W |
| Voltage | 34.5 V | 36.5 V | 41.9 V |
| Current | 10.53 A | 9.87 A | 9.68 A |
| Temp. Coefficient | -0.37 / °C | -0.30 / °C | -0.36 / °C |
| Cell Type | Monocrystalline / N-Type | Monocrystalline / N-Type | Monocrystalline / N-Type |
Performance
In LG solar panel reviews, the way we tend to measure performance is through the temperature coefficient. Generally, a solar panel will perform worse in certain meteorological conditions, namely when temperatures are too hot. As a convention, the set temperature is 25 °C: if the temperature goes above that number, then the panel will start losing its efficiency. By how much? That is precisely determined by the temperature coefficient.
Let's make an example: as you can see from the charts above, an LG solar panel has, on average, a temperature coefficient of about -0.35%, depending on the model. Let's say we buy a panel with -0.36% temperature coefficient. Every time the temperature is one grade over 25, then the panel's production will drop by 0.36%. As you can see, the drop is quite low, and although it is not uncommon to see such low percentages, it is still a very good result and one that guarantees your panel will last many decades.

Efficiency
Solar panel efficiency is the ability of a panel to capture sunlight and turn it into electricity. LG solar panels reviews all agree on the fact that the company builds solar panels with a very good efficiency rate. Typically, standard panels have an efficiency range of about 14% to 18%, while, generally speaking, LG ones tend to go higher, averaging, as you can see, 19 or even an exceptional > 20 percentage. Efficiency is one of the most important aspects to keep into consideration when buying a solar panel, and LG does a great job at leading the market in that.
Cost
Although it is difficult to calculate the exact price a solar panel will cost you, given that a lot is determined by the area in which you live in, the model you choose, for what type of building, etc., on average, a watt will be priced between $2.40 and $3.14. The price is totally understandable for its quality, given that LG is one of the best solar panels manufacturers and produces high-quality models with the best technology; nonetheless, you can find on the market lower prices for the same, in sometimes even higher, quality. That is the reason why we listed price as perhaps the only disadvantage.
Despite this, keep in mind that the price does not take into consideration the possibility of receiving incentives and help from the government for your decision of investing in renewable and clean energy.
Warranty
Warranty from LG is exceptional. The company offers a 25-year warranty both for the product and the performance for the Neon 2 and Neon R series. The only other solar company which does that is SunPower, whereas most other companies average a 10 or 12-year warranty. About performance, LG guarantees an impressive 90.08% retained power capacity after 25 years for the Neon 2, and even more (90.80%) for the Neon R. All these numbers just show how much LG cares about their customers, and perhaps most importantly, the value they place on their products, so much that they have no problem in offering you one of the longest-lasting warranties on the market.
Final Advice
There is no doubt LG is a tier 1 manufacturer. Winning several important awards for their ultra-efficient and innovative technology, the company is now at its fourth generation of solar panels and have been producing over 2 GW of panels annually for the last few years. Clearly LG is a step above many of its competitors, providing a level of quality and reliability sometimes unmatched. The only downside is the high price the LG solar panels for sale have, but as we have seen before, the perks that come with having such a premium panel greatly outnumber the higher cost compared to other brands. Therefore, if you are wondering whether an LG is the right solar panel for you, then the answer is definitely yes: the company has a wide variety of products to offer, which will certainly meet your expectations and requirements.