Solar panels can be the perfect option you are looking forward to in order to bring a new way of generating energy to your home. Not only is it a much-needed source of reliable energy, but it also reduces, sometimes greatly, your energy bills and has very low maintenance costs. Nonetheless, finding the right solar kit in the vastity of options might be overwhelming.
In our article, we are going to talk about Harbor Freight solar panels. It is a discount tool and equipment retailer and sells a variety of solar kits and other products related to solar power. We are going to honestly review the most popular to give you an idea and orient you towards the best choice.
Harbor Freight Solar Panel Kit
Let's first focus on Harbor Freight solar panel kits. The company is currently selling two of these products: the 7 Watt and the 100 one.
100 Watt Solar Panel Kit
Description
This product is the retailer's top pick and is recommended by 97% of their customers. It is a portable and reliable solar energy kit that delivers 100 watts of free, clean, and quiet energy. The cells work perfectly well in different weather conditions, including in both sunny or cloudy circumstances. Such advantage comes from the fact that the cells are in amorphous silicons, so you can be sure they will give you the best output regardless of the sun's presence or absence.
The kit is also very simple to set up and then maintain. The reason being, it comes with a set of tools such as mounting hardware, a 12v light kit, battery terminal clamps, and a universal power adapter. These tools make it easier not only to place the panel in the desired place but also to keep it in good condition.
To guarantee the best performance, the panel uses technology such as solar charge controllers or blocking diode technology, which prevents your panel from losing charge during the night. This happens because it allows the flow of current to the battery but blocks the opposite flow of current, i.e., from the battery to the panel.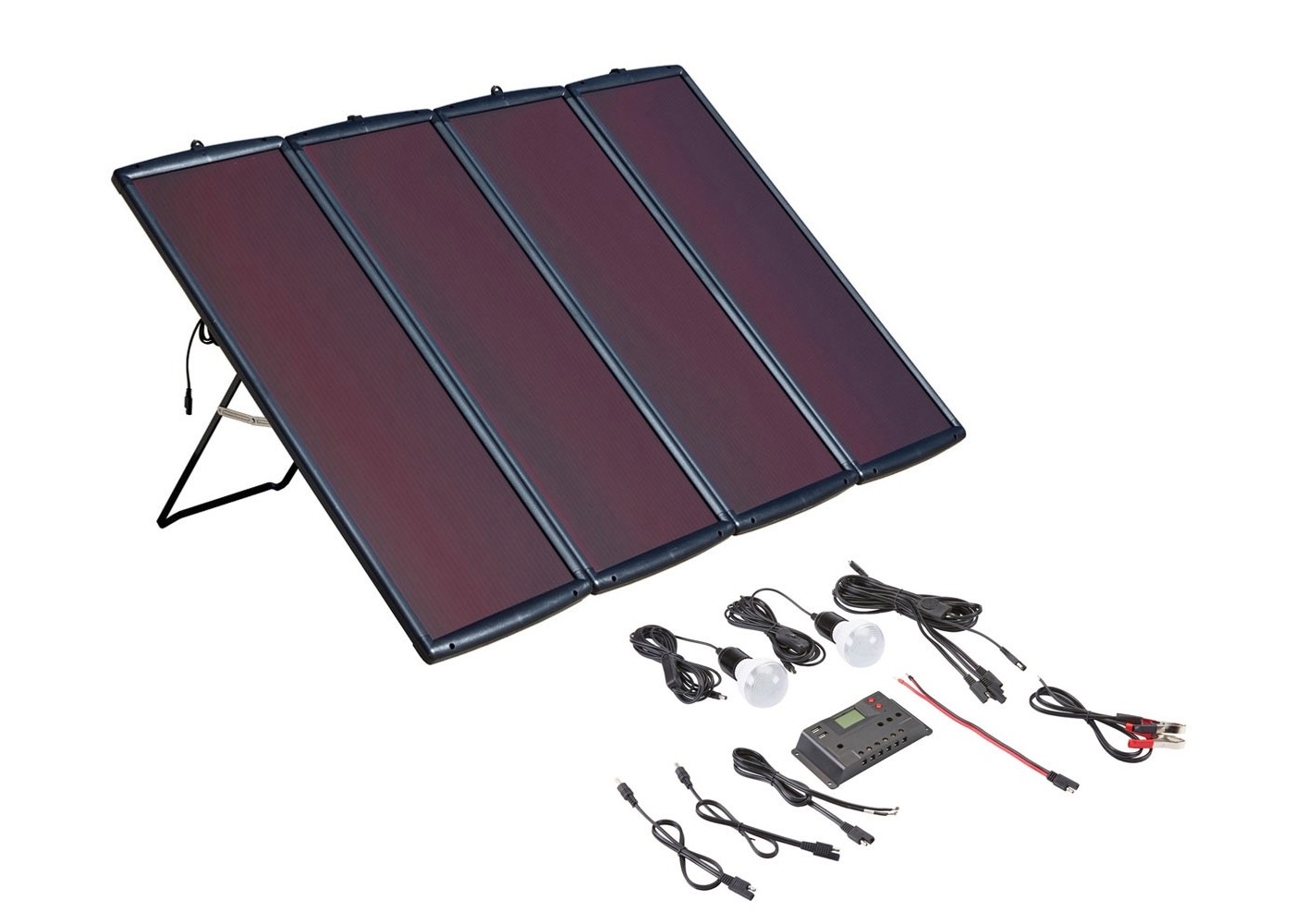 Pros and Cons
Warranty
Solar panels Harbor Freight are guaranteed within 2 months from the date of purchase.
Price
At the time of writing our Harbor Freight 100 watt solar panel review, the product's cost is $194.99 on the official company's website (https://www.harborfreight.com/100-watt-solar-panel-kit-63585.html). You also have the possibility to visit the many local stores in the whole US territory.
7 Watt Solar Panel Kit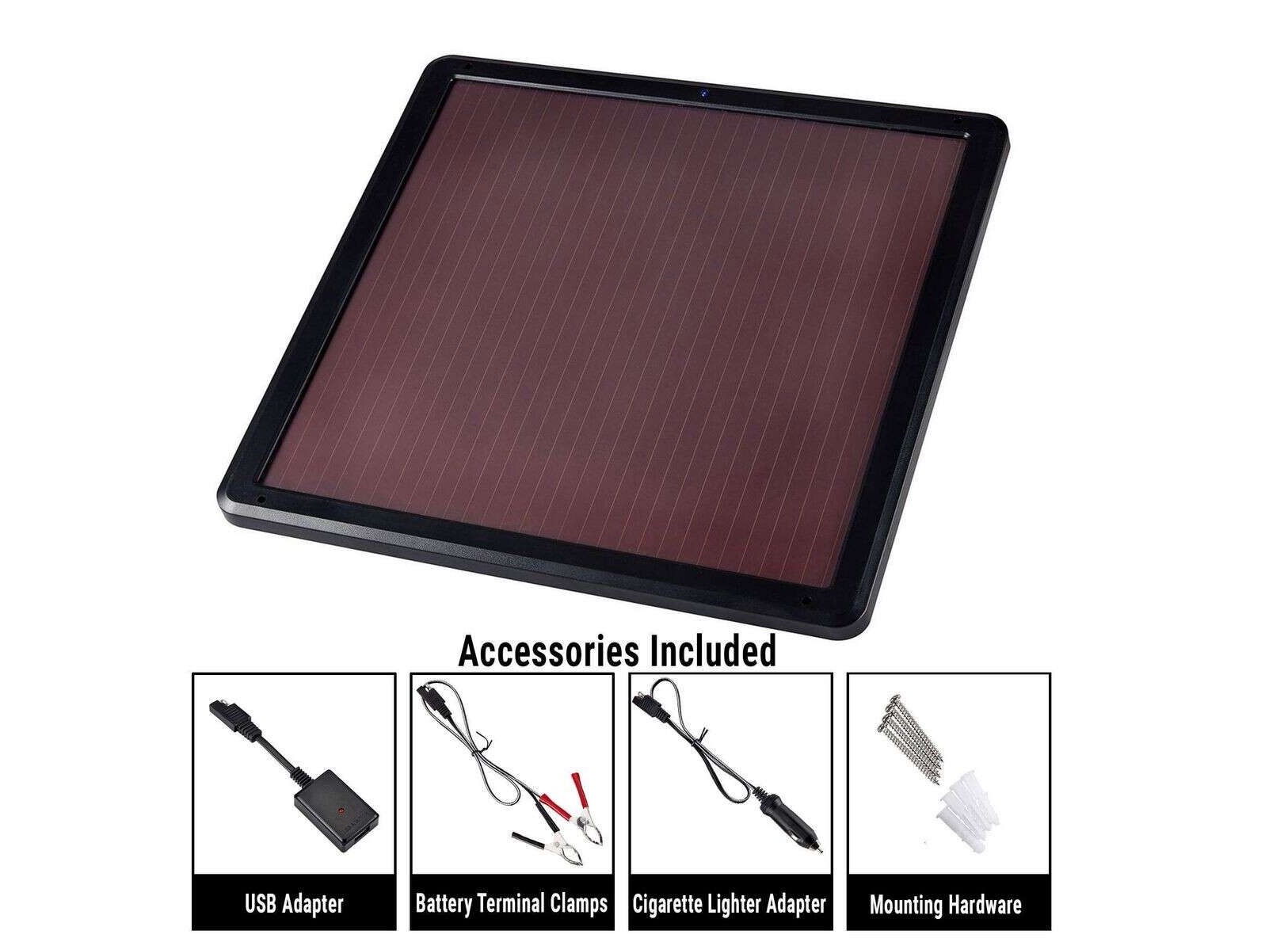 Description
The second version of portable solar panels Harbor Freight sells is the 7 Watt one. Clearly much smaller and with a much lower potential output than the above kit, the 7 Watt is a handy, cheap, and convenient way to get power for your several needs, like charging small batteries to power electronic devices or to top off batteries for vehicles in storage.
They are made of amorphous crystal and constructed with long-lasting ABS plastic in order to provide decent performance in bright conditions, even in partially cloudy ones. Like the 100 Watts version, this one too comes with a built-in blocking diode to prevent night drainages.
To conclude, the kit includes mounting hardware to ease the setup up, USB and cigarette lighter adapters, as well as terminal clamps.
Pros and Cons
+ Perfect to power up devices and keep them ready to use without using electricity.
+ Very competitive price.
+ Blocking diode and weather-resistant construction to prevent unwanted discharges and to allow for usage in (almost) all conditions.
– The adapter won't work with any phone.
Warranty
Solar panels Harbor Freight are guaranteed within 2 months from the date of purchase.
Price & Delivery
The 7 Watts solar panel Harbor Freight now sells at $34.99 at the company's official website. Transportation may take about a week, depending on various circumstances, but it will come to you after an estimated max of 4 business days if you choose the express shipment.
Other Products
Harbor Freight sells a variety of other solar products and accessories you might find useful in your day-to-day life and to get better, cleaner, and cheaper energy for your purposes. Even though we cannot review them all, it is useful to at least name the most important, so you have an idea of what to expect.
100 Watt Solar Charge Regulator
5 Watt Foldable Solar Panel Charger
1.5 Watt Solar Battery Charger
400 Watt Universal Solar Connector
Conclusion
In our brief review of the two portable solar panels Harbor Freight, we tried to give you an overview of the company's top sold products. We hope that by now, you have a better understanding of what these panels can offer and the great advantages purchasing portable and handy solar kits bring you in the field of clean and cheap energy. When it comes to Harbor Freight, their biggest workhouse is the price. And in fact, prices are very competitive for the value they bring.
Of course, not everything is peaches and cream, and Harbor Freight does have some issues, such as quite heavy weight or slightly cheaper materials, but you shouldn't be worried too much. We value these solar panels quite highly, and our opinion is in line with the majority of the customers: more than 90% approve of the Harbor Freight kits.