The first thing that may come to your mind when you hear Hyundai is a beautiful Santa Fe model, or perhaps a fast and fun to drive sports car. However, today we are not going to talk about motors. Or better, not precisely about them. Let's start from the beginning. The Hyundai Group was founded in South Korea back in 1947 as a construction company and then expanded into several branches. One of those branches, and probably the most popular, has to do with cars (the Hyundai Motor Group) and was founded in 2000.
But the company doesn't stop there, and, as we said, it has different branches in various fields. The Hyundai Heavy Industries Group started as a company specialized in shipbuilding in 1974, and in 2002, it completely spun-off from the main one. The HHI has four core business divisions and five non-core ones, among which we find, finally, the subsidiary related to Electric and Energy Systems and Green Energy. The Hyundai Green developed a network for the production and distribution of solar panels and now counts with more than 72 wholesalers in over 20 countries around the world.
Overall Ratings
Quality: 7.5
Performance: 8
Warranty and tech support today: 6.7
Warranty and tech support long-term: 7.8
Price: 7.6
Value for money: 7
Pros and Cons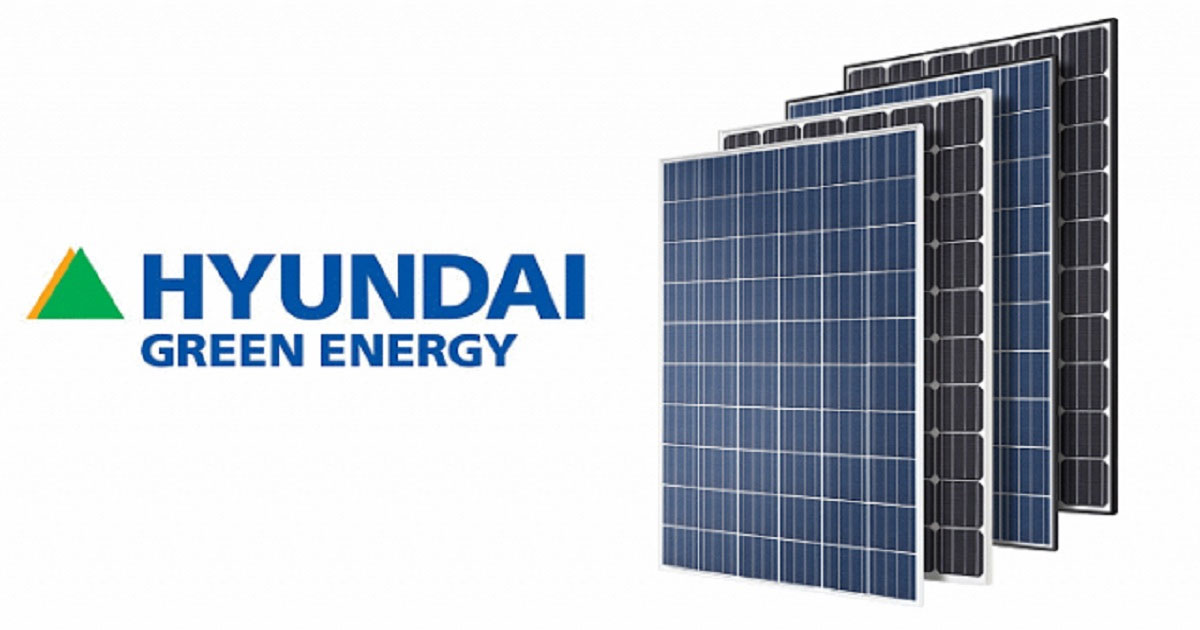 Manufacturing Locations
As we have seen, the company has developed in most parts of the world, but as the primary locations for manufacturing its solar planes, we have South Korea, where Hyundai is based Vietnam and China.
Different Types Of Solar Panels Hyundai Offers
Throughout the years, the Hyundai Solar company developed five different types of solar panels, each of them designed specifically for a certain function. In our Hyundai solar panels review, we are going to list all of them and give you some key information to help you understand what could be the most convenient for your needs.
RI Series. Made of a 72-cell system in monocrystalline silicon, it includes six models that range from a power of 345 W to 370 W. They are very big and are advised mainly for commercial and utility systems. The technology used is the already well tested PERL, which offers a great level of efficiency of about 18% / 19%.
KI Series. Very similar to the previous one, the KI offers eight models with a power range of 345 W to 390 W. The efficiency is slightly higher, at more than 19%. They are massive and made specifically for utility companies since their high voltage handling capacity (around 1,500 V) is able to reduce the balance of system costs.
WI Aqua Max Series. As the name suggests, these Hyundai solar panels are created with floating solar energy plants in mind, so they are made to be greatly resistant to water and corrosion. Although efficiency falls down a bit and reaches its maximum at 18.9% (still an excellent performance), the voltage they are able to handle is still pretty high (1,000 V).
RG Series. We move now to less massive panel systems, perfect for both your home or commercial use. Available ranging from 295 to 310 watts, the Hyundai RG solar panels consist of 60 cells, again in monocrystalline silicon. The PERL technology implemented enables the panel to be highly efficient even in bad meteorological conditions like cloudy days. Efficiency sits at around 18.9%, and the quality and safety of the products is guaranteed by independent testing services like UL and VDE.
RG Black Series. Slightly less powerful than the previous entry (this series goes from wattages of 290 W up to 305 W), what makes the Hyundai Black Series appealing is the aesthetic of the panels. In sleek, fine black refinitions, they are perfect for residential buildings. Not only because they will look very good, but also because they will blend more with the roof's color. They are also made using the PERL technology, although efficiency rating falls down a bit and averages 17.7%.
As you can see, what makes Hyundai solar panels unique is their vast options of panels for each and everyone of your necessities. If you are wondering whether these panels are for you or not, then remember Hyundai manufacturers solar panels for a variety of uses, so you will definitely find the perfect one. Quality is overall very good, and the price is very accessible.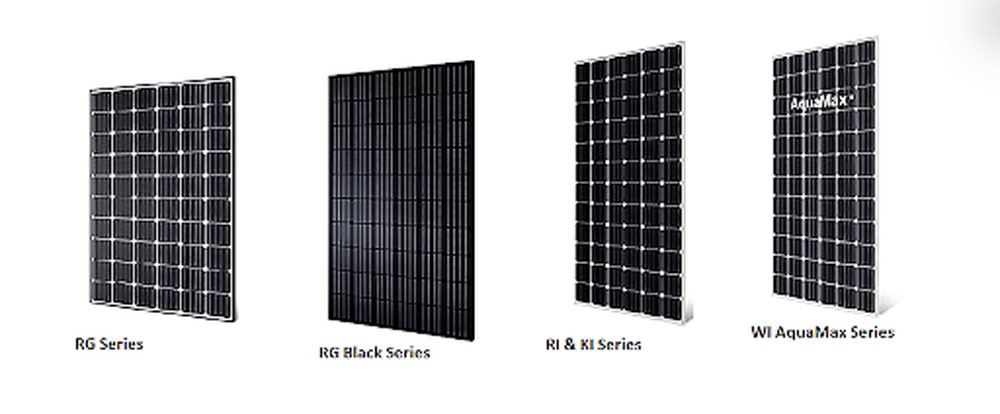 Performance
In Hyundai solar panel reviews, the way we tend to measure performance is through the temperature coefficient. Generally, a solar panel will perform worse in certain meteorological conditions, namely when temperatures are too hot. As a convention, the set temperature is 25 °C: if the temperature goes above that number, then the solar panel will start losing its efficiency. By how much? That is precisely determined by the temperature coefficient.
Let's make an example: a Hyundai solar panel has, on average, a temperature coefficient of about -0.39%, depending on the model. Let's say we buy a Hyundai solar panel with -0.39% temperature coefficient. Every time the temperature is one grade over 25, then the solar panel's production will drop by 0.39%. As you can see, the drop is quite low. Although some other companies have managed to bring such coefficients even lower, we have to admit it is quite a decent result, so you should be more than content.
Efficiency
Solar panel efficiency is the ability of a panel to capture sunlight and turn it into electricity. Typically, standard panels have an efficiency range of about 14% to 18%, while Hyundai tends to do a good job and go a bit higher than that. However, a lot depends on the series and model of the panel. As we have seen, the Hyundai RG Black Series has a lower efficiency rate compared to other series like the KI, which offers an exceptional 19%.
Efficiency is one of the most important aspects to keep into consideration when buying a solar panel, and Hyundai Solar does pretty good compared to other companies, but remember that in some cases, you might have to choose: efficiency or aesthetics.
Cost
Although it is difficult to calculate the exact price a solar panel will cost you, given that a lot is determined by the area in which you live in, the model you choose, for what type of building, etc., on average a watt in the United States will cost you between $2.75 and $3.5; therefore an average 6 kW solar energy system will be at about $15,000 to $25,000. The price is totally understandable and falls into the average scale; however, there are many premium solar panel manufacturers that have way lower prices and offer the same, if not higher, quality, so Hyundai falls a bit in the pricing department.
Nonetheless, keep in mind that the price does not take into consideration the possibility of receiving incentives and help from the government for your decision of investing in renewable and clean solar energy.
Warranty
Warranty varies depending on the series and modules you end up buying. When comparing to other solar panel manufacturers, we have to be honest and say that Hyundai does not have the best warranty contracts on the market. Generally speaking, the company offers a 12-year product warranty on the newest solar panels, while old models receive only a 10-year one. Regarding performance warranty, Hyundai does much better with a 30-year warranty.
Speaking of performance, the company states that it will decline about 2.4% during the first year of usage and in the subsequent years of only 0.6%, which is very good compared to other premium solar panels. If somehow performance falls down 92.45% after 10 years, then the company offers you the possibility to replace the defective panels or a couple of other options.
Final Advice
All in all, Hyundai provides very good quality solar panels, which represent a solid option for a variety of applications. Despite having some flaws, rest assured you will enjoy a long-lasting solar panel, with a high-efficiency rate and good performance throughout all times of the day and in every condition, including a cloudy sky. Make sure to check the Hyundai Solar website to see all the series and models they have to offer, some of which we have already listed in our review above.