Panasonic was founded back in 1918 and is now one of the leading companies when it comes to technology, electronics, and appliances. Since 1975 it has been a pioneer of photovoltaic and solar energy. Engaged in the commitment of creating "a better life and a better world" through the continuous evolutions of society, Panasonic is a high-quality guarantor after being on the solar energy market for about 50 years, constantly researching and developing new ideas.
The story most specifically starts with the acquisition of SONYA, precisely in 1975, and has been since then a leader in the Heterojunction with Intrinsic Thin (HIT®) layer, patented in 1997.
Overall Ratings
Quality: 7
Performance: 7.5
Warranty and tech support today: 9.7
Warranty and tech support long-term: > 9
Price: 8
Value for money: 8
Pros and Cons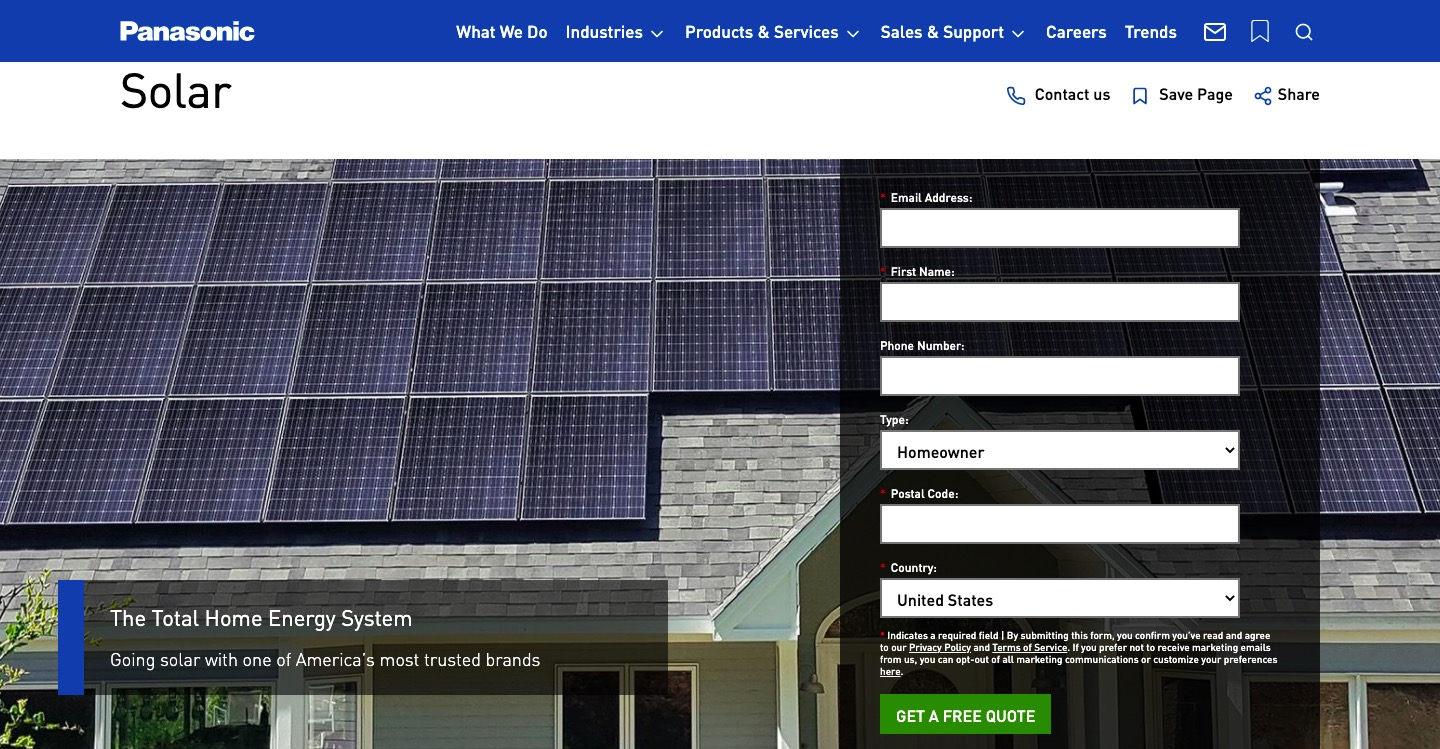 Manufacturing Locations
Panasonic Solar Panel manufacture has reached global production. The company is Japanese but has extended manufacturing of their solar panels to other countries such as Malaysia, China, and the United States. However, two news shocked the world of photovoltaic production. Not only did the company leave Tesla's solar panel "gigafactory" in Buffalo, but it also just recently, as of February 2023, announced its complete and total cessation of activity in the production of solar products. Planning to exit the solar panel and wafer market by 2023, the company will focus on producing inverters, energy storage systems, and more. Panasonic modules will still be available for sale through subcontracted manufacturers.
Different Types of Solar Panels Panasonic Offers
Depending on your country of residence, the solar panels offered by Panasonic vary. Nonetheless, two are the general options you can choose from when buying a Panasonic solar panel: the Standard HIT or the HIT double.
The HIT double is the most innovative one and absorbs light and heat from both sides. It is installed at an angle of roughly 20 degrees so that the roof mirrors the light, which is then absorbed by the back of the solar panel.
Among the Standard HIT, we find models such as the Panasonic VBHN330SA16, the VBHN245SJ25, and the VBHN240SJ25. The first one is particularly advantageous and probably the most powerful solar panel Panasonic has to offer: with its 96 cells, the N330 and N325 HIT® produce up to 36% more free electricity compared to more conventional ones.
| | | | |
| --- | --- | --- | --- |
| Standard HIT | VBHN245SJ25 | VBHN240SJ25 | VBHN330SA16 |
| Efficiency | 19.4% | 19.0% | 19.7% |
| Solar Cells | 72 monocrystalline | 72 monocrystalline | 96 monocrystalline |
| Length | 158 cm | 158 cm | 159 cm |
| Width | 79.8 cm | 79.8 cm | 105.3 cm |
| Weight | 15 kg | 15 kg | 15 kg |
| Depth | 35 mm | 35 mm | 35 mm |
| Max. Power Output | 245 kW | 240 kW | 330 kW |
| Voltage | 44.3 V | 43.6 V | 58 V |
| Current | 5.54 A | 5.51 A | 6.03 A |
| Temp. Coefficient | -0.29% degrees C | -0.29% degrees C | -0.30% degrees C |
| Material | Monocrystalline silicon | Monocrystalline silicon | Monocrystalline silicon |
We have seen how the Double HIT makes a step further and represents an innovation in the world of solar panels. Here are a few Panasonic models using such technology.
| | | | |
| --- | --- | --- | --- |
| HIT Double | 210DNKHE1 | 205DNKHE1 | 200DNKHE1 |
| Efficiency | 26% > standard HIT | 26% > standard HIT | 26% > standard HIT |
| Solar Cells | 72 monocrystalline | 72 monocrystalline | 72 monocrystalline |
| Length | 163 cm | 163 cm | 163 cm |
| Width | 86.2 cm | 86.2 cm | 86.2 cm |
| Weight | 26 kg | 26 kg | 26 kg |
| Depth | 35 mm | 35 mm | 35 mm |
| Max. Power Output | 210 kW | 205 kW | 200 kW |
| Voltage | 42.8 V | 41.3 V | 40.7 V |
| Current | 5.00 A | 4.97 A | 4.92 A |
| Temp. Coefficient | -0.30% degrees C | -0.30% degrees C | -0.30% degrees C |
| Material | Monocrystalline silicon | Monocrystalline silicon | Monocrystalline silicon |
Performance
With a solid > 200 kW of maximum power output, all Panasonic solar models perform quite well and are, in fact, among the best solar panels on the market. The only thing you need to worry about is temperature, as high temperatures affect the performance of your panel and its output efficiency. When it comes to Panasonic solar panels, however, this should not be a problem at all, because generally, per 1 degree Celsius over 25°, the max power falls only about 30%.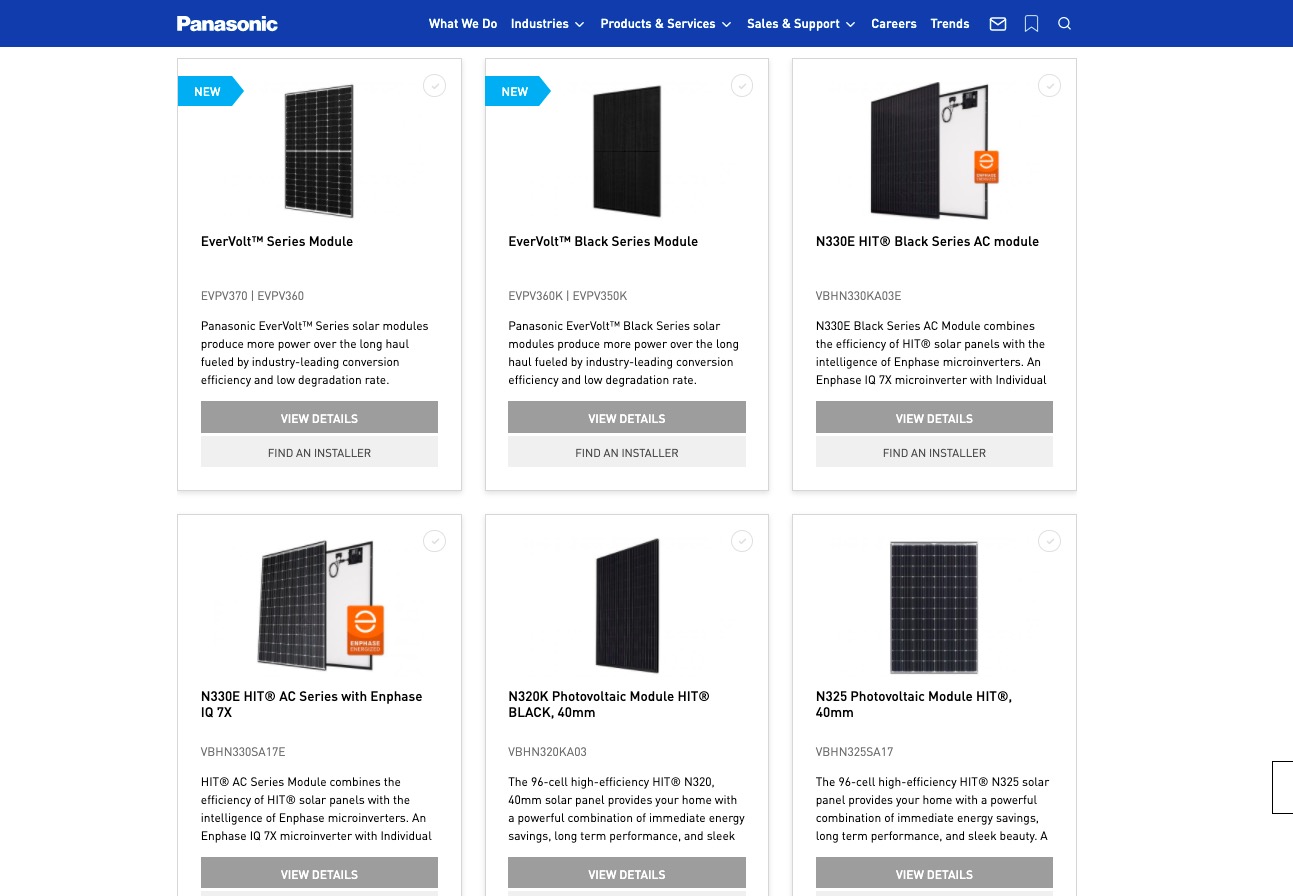 Efficiency
Efficiency is among the best and most commonly used ways to determine the quality of a solar panel. As you can see, the Panasonic ones absolutely deliver, especially if Double HIT since they are expected to deliver 26% more compared to standard solar panel models. A groundbreaking announcement was made by Panasonic when, a few years ago, stated that its HIT solar cell system had reached an outstanding efficiency represented by a 25.6% conversion rate.
Efficiency is also improved thanks to the water drainage design, which will enable you to install a solar panel even in rainy places. Even if you live in a relatively sunny region, water drainage is essential to prolong the lifespan of your panel and, thus, its efficiency in the long run.
Cost
To make an exact estimation on the cost of Panasonic solar panels is not easy, since we have to keep in mind the price that may come from other accessories but needed equipment. We estimate the price to be around $2.50 and $3.20 per watt, a pretty competitive price on the market if we take into consideration the quality of the product we are buying. To roughly indicate a total cost, that would vary from $14,000 to less than $20,000.
Keep in mind that the price does not take into consideration the possibility of receiving incentives and help from the government, or even free quotes, for your decision of investing in renewable and clean solar energy. To check whether you are eligible for these funds, and if so, how much, you can enter your postcode online and see what financial payments you might receive.
Warranty
All Panasonic panels come with a 90% of minimal power output warranty, valid for each module and from day 1 upto 10 years. From 10 years to 25, the warranty falls down to 80%. The high quality of HIT panels ensures that they will last at least 10 years and have a claim rate as low as 0.0036%.
Focusing a bit more on the warranty, let's see practically what you should expect from a panel like the N330 SA. Minimum output is 95% of max output, so we have 200 kW * 95% = 190 kW.
The 10-year Panasonic warranty is calculated on that value; therefore: 190 kW * 90% = 171 kW. The latter is the least you can expect from your panel up to 10 years of using it. In the following 15 years, the warranty promises at least 80% min power output, so: 190 kW * 80% = 152 kW.
Are Panasonic Panels Right for You?
Now that you have an overview of the product, the 1 million dollars question arises. Of course, the answer is subjective, but when it comes to solar panels rating, numbers and statistics can help you greatly and influence your decision by a lot. When it comes to Panasonic, numbers don't lie and present you with an array of high-quality products at a very competitive price.
In fact, that is one of the best things about Panasonic products and makes it perfect if you want a good solar panel that will last long, with a warranty provided by one of the best and oldest tech companies in the world, but at a price that will not make you broke.
Final Advice
Our Panasonic solar panel review cannot end without remarking on the determination of the company to improve and refine their technology, shown perfectly by the line of incredibly efficient panels they offer. Even the Standard HIT is not so standard, offering impressive output compared to the competition without sacrificing optimal quality when it comes to the materials used, showing that they perfectly reply to the customers' needs.
More specifically, it is the Panasonic Double HIT technology that makes these solar panels unique, as it is able to generate electricity on both sides thanks to the bifacial structure, and the warranty guarantees good performance in the long period. The price cannot be low, but it is overall very competitive and definitely lower than some other high-quality solar panels.