Silfab Solar are the leading solar panels manufacturers in the USA and in North America in general. In fact, the company is originally Canadian but has expanded nonetheless in the world thanks to their commitment to premium quality products and to clean and renewable energy. The company, 100% North American, provides top-performing modules with maximum power density, flexible project solutions as well as great customer care and service coupled with on-time delivery.
If you are interested in getting into the world of solar power and are looking to buy good and reliable panels, you might want to consider what Silfab has to offer. They currently sell a total of 14 monocrystalline solutions for both commercial and residential use. In our guide, we are going to analyze the most popular and sold ones, as well as give you an overview over the general advantages and disadvantages of Silfab panels, their cost, and warranty.
Pros and Cons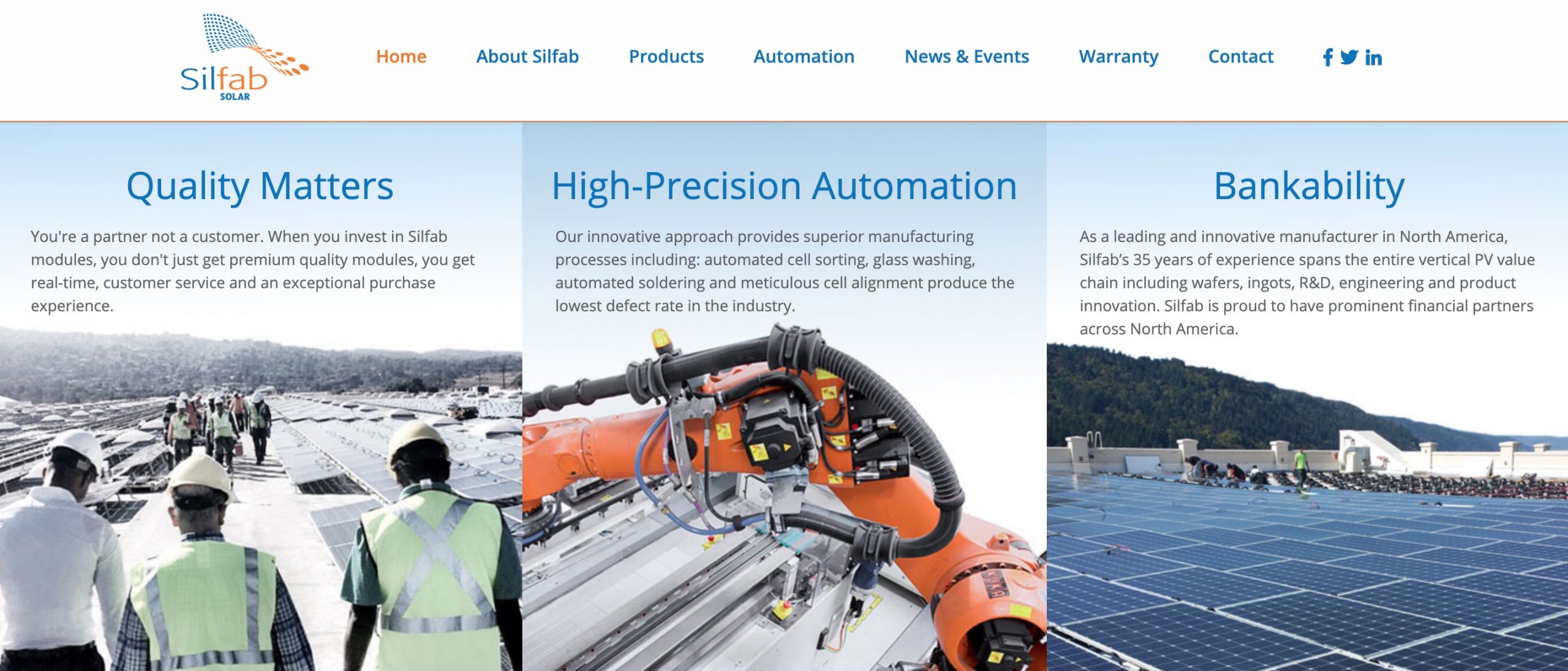 Silfab Solar Panels
To get started, let's talk about our top picks when it comes to Silfab. We are going to focus on three panels: the Silfab 310, 320, and 330. Here you have the specifics.
| | | | |
| --- | --- | --- | --- |
| Model | SIL-310 NL | SIL-320 NL | SIL-330 NL |
| Efficiency | 18.24% | 18.8% | 19.0% |
| Cell Arrangement | 144 | 144 | 120 |
| Height | 1700 mm | 1700 mm | 1675 mm |
| Length | 1000 mm | 1000 mm | 992 mm |
| Depth | 38 mm | 38 mm | 18.5 kg |
| Weight | 18.6 kg | 18.6 mm | 35 mm |
| Max. Power Output | 310 W | 320 W | 315 W |
| Voltage | 32.44 V | 32.88 V | 33.1 V |
| Current | 9.56 A | 9.74 A | 9.52 A |
| Temp. Coefficient | -0.36% / °C | -0.28% / °C | -0.36% / °C |
| Cell Type | Mono-crystalline | Mono-crystalline | Mono-crystalline |
All these three models use innovative technologies such as the Bifacial and Back Contact ones, which ensure higher efficiency and durability, and superior manufacturing processes to ensure the photovoltaic modules are of the best quality possible.
Efficiency
Efficiency is probably the most important aspect when it comes to solar panels, as it measures how well a PV is able to transform the light from sunbeams into electrical power. All Silfab Solar reviews underlined their panels' high-efficiency rate. In fact, a few of their PV modules have some of the highest rates in the whole of North America. Efficiency rates of about 14% to 18% are considered average, whereas, generally speaking, Silfab ones start at around 17.5% and even reach 20%. In this field, Silfab definitely scores a point in its favor.
Performance
In Silfab Solar panel reviews, alongside efficiency, the other calculation we turn to is performance. It is generally measured using the temperature coefficient, which shows the relation between a panel's efficiency and the temperature conditions it is exposed to. As temperatures increase, the product's ability to generate solar power will decrease. 25° C has been determined as the "triggering" temperature: from this value on, the higher the temperature, the worse for our panel. If you are wondering how much worse it will be, you are asking the right question. And the temperature coefficient will give us the answer.
On average, a Silfab solar panel has a temperature coefficient of about -0.36%. Therefore, for every grade above 25, the amount of energy the panel will produce will fall by 0.36%. Even though we have observed slightly better performance values from other manufacturers, -0.36% is still very low and a good result overall.
Silfab Panels Cost
In the end, the panel's cost is perhaps the one aspect potential buyers will consider the most. Which is totally understandable: a good choice must be considerate of quality, reliability, and efficiency, of course, but of price as well. It could be the best panel in the entire world, but if the cost is too high, it wouldn't be as valuable as other options in the market. In the case of Silfab Solar Panels, prices are pretty average. We are talking about a range going from $2.42 to $3.16 per watt.
If we do the maths, we realize that a 6 kW solar system will cost you about $14,000 to $19,000. However, don't get scared by these numbers. They represent the total gross cost; eventually, you will end up paying probably much less. In the US, the federal tax credit for solar energy will cut about 26% of that value, so the cost could go considerably down, even to $10,000. The great news is that everyone is eligible for the credit, making it a great incentive to start investing in solar energy. Additionally, you can also get free quotes for the installation of Silfab in your area.
Warranty
In the industry, solar panel manufacturers offer 10, 12, or even 15-year warranty. Silfab Panels are protected by excellent 25-year product workmanship and a 30-year performance warranty, which makes it one of the best companies in this field. Such a warranty is so for every PV module, whatever the model. Warranty is fundamental when it comes to solar panels, as these products, if not made with quality materials, can get ruined and start functioning poorly. A warranty gives you the security that, in the unfortunate event something like this happens, the company will take care of it all and help you in getting the panel back in its best condition.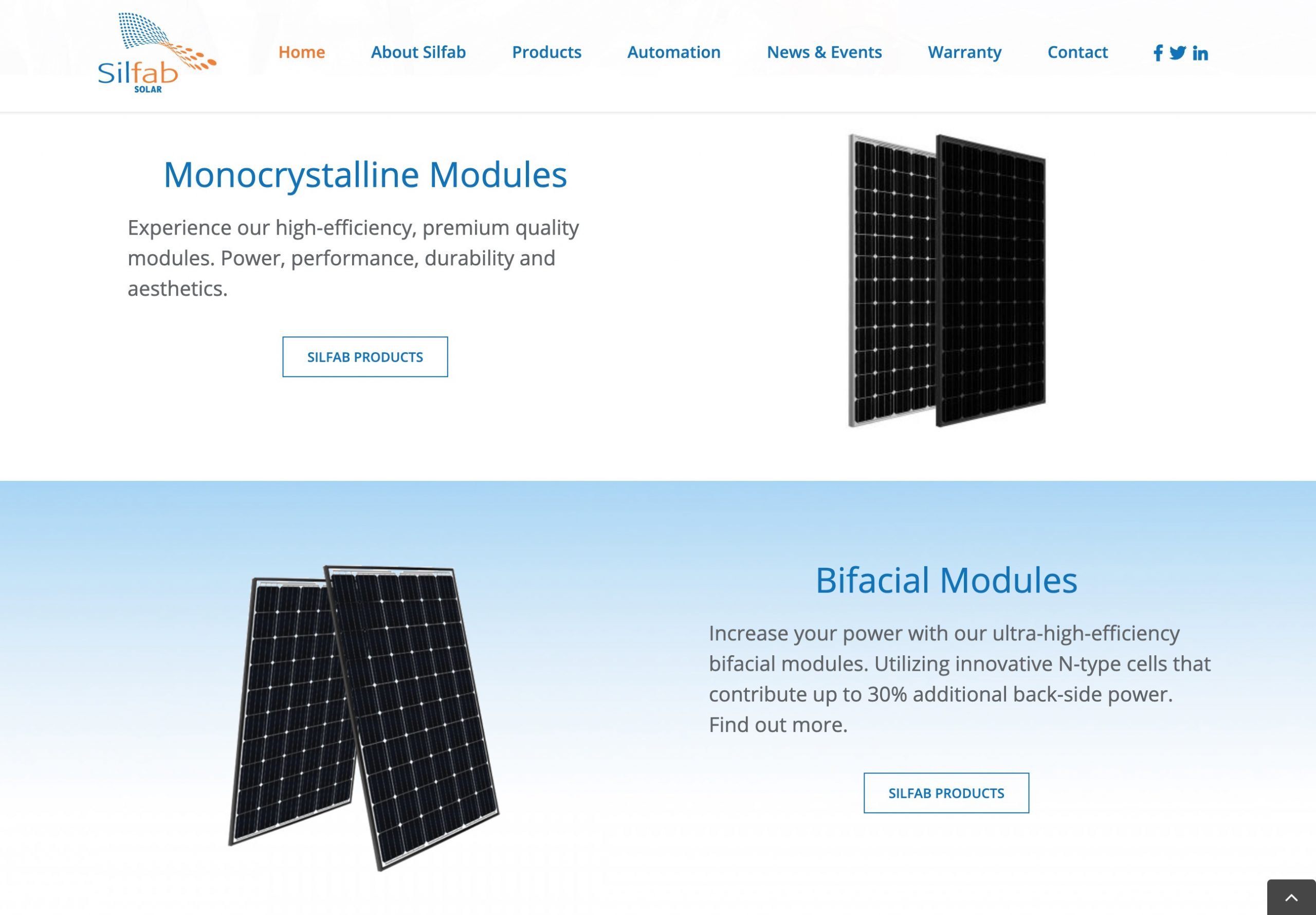 Final Advice
There are many considerations to make when deciding which solar panel to buy, and it could be difficult to navigate your way in the research for the perfect choice. Nonetheless, we provided a few elements to demonstrate how Silfab panels are made and how they work, and we believe you now have a clearer idea on the reasons why this company is one of the highest-rated not only in North America but in the rest of the world as well.
Very positive results achieved in both efficiency and performance, Silfab provides a great 25 and 30-year warranty so that you can have no worries about the state of the modules. And speaking of modules, the company manufactures a vast array of options so that you will certainly find the one most suited to you and your needs. All of them are 100% North American, built with premium quality materials, and designed to produce max energy output. Overall, with all these factors combined, if you are looking for a reliable solar PV panel, Silfab is definitely able to answer your needs.