Trina Solar is a Chinese company, vertically integrated and founded in 1997 and headquartered in the city of Changzhou. It is specialized in the photovoltaic industry and manufactures and sells PV products, as well as lead researcher in the field of solar energy. One of the oldest Chinese solar panel companies, they are among the largest manufacturers in the world, with almost over 50 GW of panels shipped in 2020.
The company has broken several records in the past few years, such as the best efficiency for multicrystalline solar panels in 2016, as well as named the most bankable solar panel manufacturer in the world during the same year.
Overall Ratings
Quality: 8
Performance: 7.9
Warranty and tech support today: 8.5
Warranty and tech support long-term: 8.7
Price: 9
Value for money: 9
Pros and Cons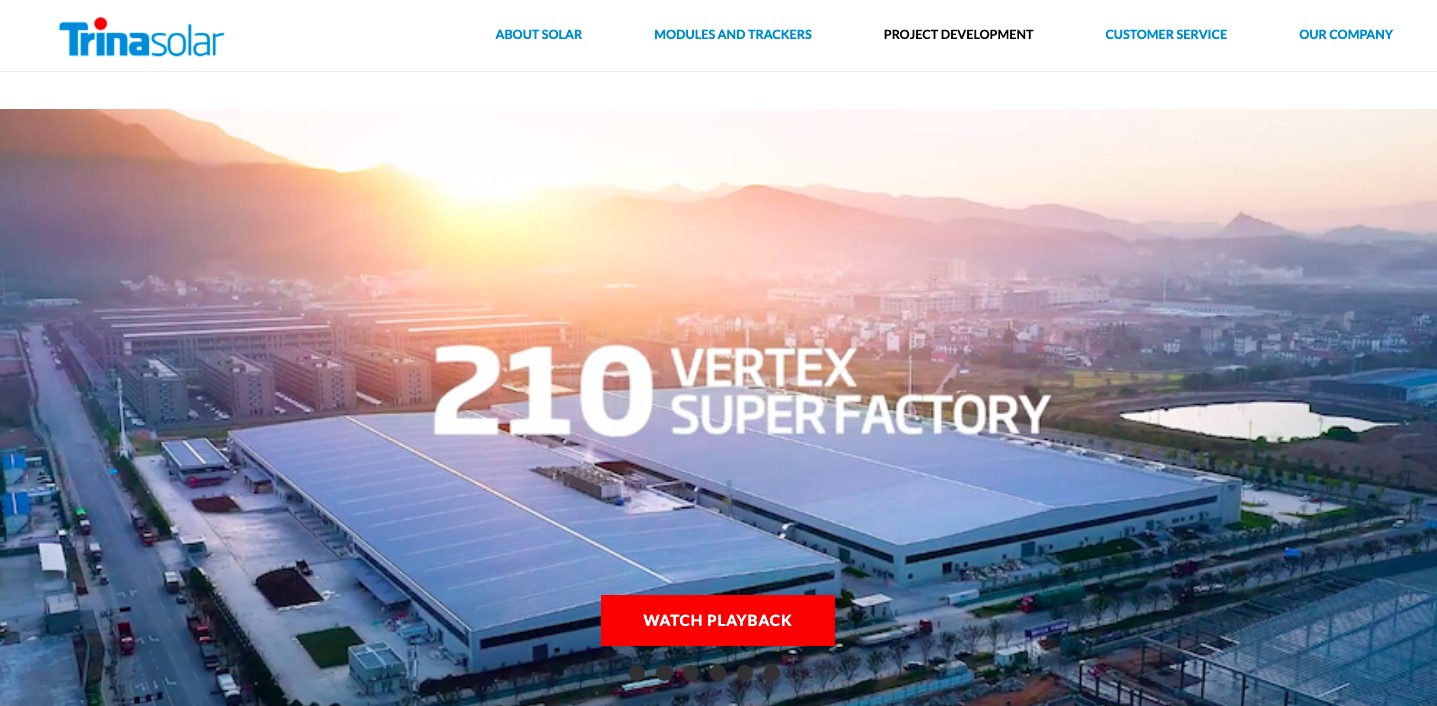 Manufacturing Location
Trina Solar has more than 20 offices and subsidiaries in many countries worldwide, including the United States, Brazil, and Australia, but manufacturing prevalently happens in China, Thailand, and Vietnam. The company has currently about 13,000 employees, mostly in China but in other parts of the world as well.
Different Types Of Solar Panels Trina Solar Offers
Trina Solar has a wide range of products for every building and necessity. If you are in need of panels for your home, or commercial and large utility-scale ones, Trina has the answer. By using the latest tested technology, like bifacial, half-cell designs, and the premium N-Type monocrystalline cells, they are able to produce top solar panels. In Trina Solar panels reviews, we particularly focus on five series of PV products.
Vertex
Vertex S
Honey
TallMax
DuoMax
Here are the specifications to some of the Trina Solar limited panels, as well as the ones a customer might find interesting the most.
| | | | |
| --- | --- | --- | --- |
| Model | TSM-DEG20C.20 | TSM-DD06M.08 | TSM-DEG8MC.20 |
| Efficiency | 21.2% | 19.3% | 18.9% |
| Length | 2172 mm | 1690 mm | 1773 mm |
| Width | 1303 mm | 996 mm | 1046 mm |
| Depth | 40 mm | 35 mm | 30 mm |
| Weight | 35.3 kg | 18.0 kg | 25.0 kg |
| Max. Power Output | 600 W | 350 W | 360 W |
| Voltage | 41.7 V | 33.6 V | 34.0 V |
| Current | 18.42 A | 10.30 A | 11.12 A |
| Temp. Coefficient | -0.34% / °C | -0.36% / °C | -0.35% / °C |
| Cell Type | Monocrystalline | Monocrystalline | Monocrystalline |
What Makes Trina Solar Panels Unique?
Alongside their quality, Trina Panels have a particular interest in sustainability, and that makes them a company worth keeping an eye on. The Silicon Valley Toxics Coalition issues an annual report on the behavior of photovoltaic manufacturers, ranking the best solar panels companies based on their social and environmental responsibility and commitment. Trina Solar Panel was granted first place in such ranking in 2014. In the following years, despite falling to third and then second place, they improved on their previous score, qualifying them as one of the most sustainable solar panel manufacturers in the world. Which is not only good for the environment and our planet, but for ourselves as well.
More recently, in earlier 2023, Trina Solar received a dual EPD (Environmental Product Declaration) from independent institutes who certify the sustainability of the company, from the impact on the environment, the materials used, the production process, transportation, and packages, and finally recycling.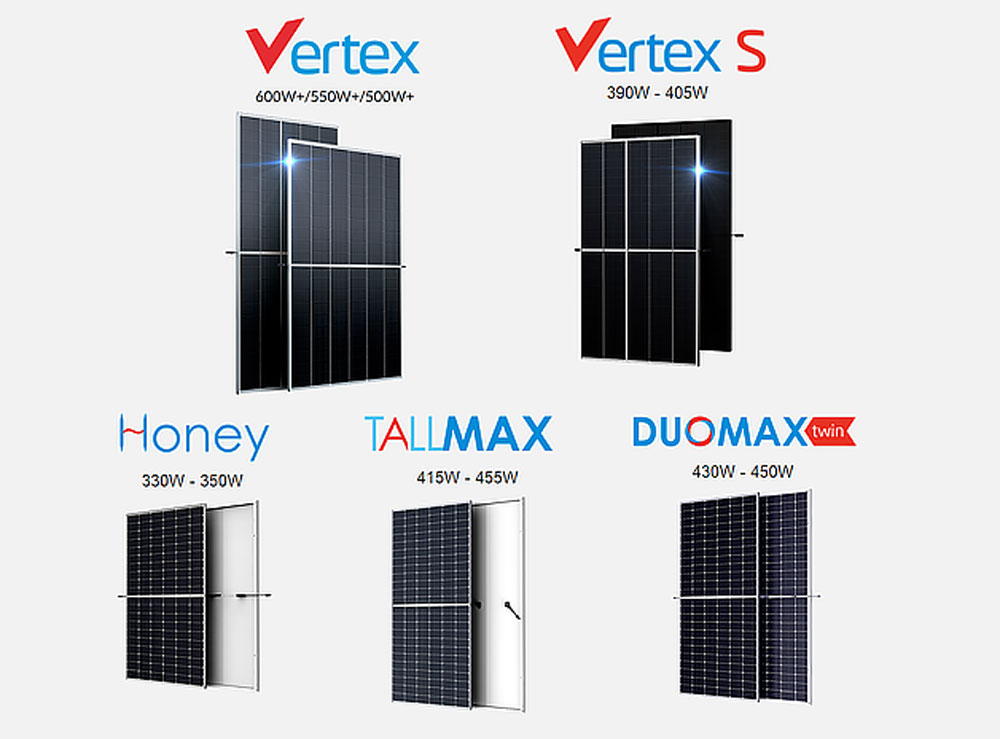 Performance
In Trina Solar panel reviews, the way we tend to measure performance is through the temperature coefficient. Generally, a solar panel will perform worse in certain meteorological conditions, namely when temperatures are too hot. As a convention, the set temperature is 25 °C: if the temperature goes above that number, then the panel will start losing its efficiency. By how much? That is precisely determined by the temperature coefficient.
Let's make an example: as you can see from the charts above, a Canadian solar panel has, on average, a temperature coefficient of about -0.35%, depending on the model. Let's say we buy a panel with -0.36% temperature coefficient. Every time the temperature is one grade over 25, then the panel's production will drop by 0.36%. As you can see, the drop is quite low. Although some other companies have managed to bring such coefficients even lower, we have to admit it is quite a decent result, so you should be more than content.
Efficiency
Solar panel efficiency is the ability of a panel to capture sunlight and turn it into electricity. Trina Solar reviews all agree on the fact that the company builds solar panels with a very good efficiency rate. Typically, standard panels have an efficiency range of about 14% to 18%, while, generally speaking, Trina Solar ones tend to go higher, ranging from 18% to an exceptional > 20%. Efficiency is one of the most important aspects to keep into consideration when buying a solar panel, and Trina Solar does a great job at leading the market in that.
Cost
Although it is difficult to calculate the exact price a solar panel will cost you, given that a lot is determined by the area in which you live in, the model you choose, for what type of building, etc., on average, a watt will cost you about $0.88. That would be an average of $5,282 for a system sized 6 kW. Price is one of the best things about Trina Solar, as it is relatively cheap while not compromising the quality of the product. It is also very competitive because, on the market, you might often find similar prices for panels not quite as efficient as the Trina Solar's.
Keep in mind that the price does not take into consideration the possibility of receiving incentives and help from the government for your decision of investing in renewable and clean energy. To check whether you are eligible for these funds, and if so, how much, you can enter your postcode online and see what financial payments you might receive.
Warranty
Trina Solar offers an average 12-year product warranty for any defect the panel might have in its first decade or so, while the performance warranty is longer and covers 2 years of use. Regarding this last point, the company guarantees a minimum of 83.1% output, which is not extraordinary–some companies manage to not fall below 90%–but still average and quite decent. The Vertex and Vertex S series receive 3 years more of product warranty.
Support and warranty has greatly improved throughout the years, and feedback from customers is very positive. This shows Trina Solar's commitment to make even better products and give as much help to their consumers as possible.

Final Advice
TrinaSolar panels are great options when you are looking for a good product coming from a respectable, innovative, and top company, without spending too much but still receiving solar panels with great efficiency and performance. If you are wondering whether a Trina is the right solar panel for you, then the answer is definitely yes: the company has a wide variety of products to offer, which will certainly meet your expectations and requirements.